I think most of you know I've been working for months now on guest editing a special YA issue of Subterranean online magazine (for the *fabulous* Bill Schafer of Subterranean Press). Today I'm thrilled to finally be able to give everyone a peek at the contents and the cover (with art by Sara Turner of Cricket Press).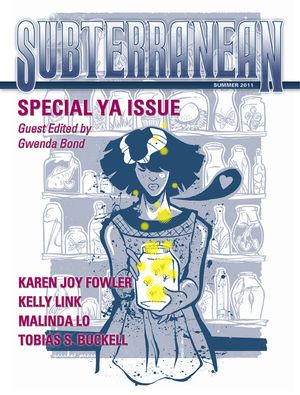 Without further ado, the table of contents in alphabetical order:
"Queen of Atlantis" by Sarah Rees Brennan
"Mirror, Mirror" by Tobias S. Buckell
"Younger Women" by Karen Joy Fowler
"Their Changing Bodies" by Alaya Dawn Johnson
"The Ghost Party" by Richard Larson
"Valley of the Girls" by Kelly Link
"The Fox" by Malinda Lo  
"Seek-No-Further" by Tiffany Trent
"Demons, Your Body, and You" by Genevieve Valentine
If you think that looks awesome, wait until you read the stories. There's a little bit of everything: high fantasy, science fiction, historical, urban and contemporary fantasy. There's dark and witty and gorgeous.
Coming this summer to a web browser near you!