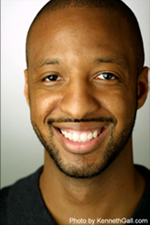 I'm delighted to welcome Varian Johnson today as part of the blog tour for his WONDERFUL new novel, Saving Maddie, and share an essay on his writing process. For those of you who don't know, Varian is sometimes known as the hardest working man in show business, er, or at least one of the hardest working writers I've ever met. (See his recent post over at Justine's for reference.) His last novel My Life as a Rhombus garnered a whole heap of acclaim and I suspect this new one will surpass even that. Saving Maddie is a complicated, exquisitely-executed story about what happens when the girl you had a crush on when you were a kid comes back to town talking about not being into organized religion anymore and scandalizing all the adults around–and you're the preacher's son (oh, and she's also a preacher's kid). Here's Varian on the tough magic employed to create it.

(AND: The first three commenters on this post will win a free ARC!)
The writing process for Saving Maddie
First off, I'd like to thank Gwenda for hosting me today. Gwenda Bond is one of the smartest people I know (her VCFA thesis on the omniscient POV should be required reading for all authors), both her husband and mother are adorable, and she is a master Mafia player. (*Ed.)
Gwenda asked me to write a bit about my writing process, which would be easy to do, if I had a set process. The only constant in my process is that it takes me a really long time to write a novel (though I'm hoping to be a little quicker on my current work-in-progress). So for this post, I figured I'd focus on the process of writing Saving Maddie, which was just released yesterday.
There was only one thing I knew when I started working on this book—that it would be from a male's POV. I had just spent the past three years working on My Life as a Rhombus, published by Flux in 2008. The novel, written from a seventeen-year-old girl's point of view, touched on topics such as sex, pregnancy and abortion, and was emotionally exhausting. In order to keep somewhat sane, I swore I'd never write another girl first-person POV novel, and set off to write my version of a "boy book."
Process-wise, I usually approach a manuscript thematically: I think about the big questions I am interested in exploring; I think about what I want to discover about the world and myself. Specifically, I found myself thinking a lot about the idea of "saving" someone, both from a religious and an emotional well-being point of view. Really, what does it mean to save someone? Who are we to determine who is or isn't in need of being saved? And how to do you save someone that has no interest in being "rescued?"


Looking back on it, I think a lot of these questions were echoes of leftover threads from My Life as a Rhombus—everyone associated with Rhonda is intent on protecting and defending her, without even asking if she needs their protection. Also, I had purposely avoided religion in the novel (I didn't want to get caught up on the conflicts between religion and abortion), but I was itching to explore this topic, as I've always been fascinated by organized religion versus spirituality.
After thinking through the theme, I came up with characters that I thought best represented what I was trying to explore: Peter Washington, the skeptical younger brother of a preacher, and Cassandra Bethea, a spiritual, but not religious, young woman taking care of her mentally disabled mother. I wrote three chapters, not thinking anything about plot or length, just to see if the story resonated with me. I've found that if I still love a story after three chapters, I'll stick with it. If not, it goes to the big recycle bin in the sky.
The story stuck, so I went about setting up an outline and fleshing out exactly what I wanted out of the novel. I tend to overwrite at the beginning of a book—both of Peter's parents had died, Cassandra was too witty and too perfect—but by this point in my career I'd learned to forgive myself for this; that I just needed to get it down, and I could fix it later. So, new outline in hand, I started on the story.
Then I got to Chapter 6, and I got stuck.


I'd gotten writer's block on novels before, but this was more than just about being stuck. Staring at  those first two pages of Chapter 6, I knew I wasn't telling the story that I wanted to tell. That I needed to tell. And I knew the only way to fix it was to start all over again.
On my laptop, I started a new folder, like the old manuscript had never existed, and began again. This time, Joshua Wynn replaced Peter, and instead of being the skeptic, he was the good, dependable preacher's son. Cassandra became Madeline Smith, and she became a much feistier and flawed version of her previous self.
Also around this time, I began contemplating returning to school—but not for another engineering degree. Rather, I'd heard about this little school called Vermont College in Montpelier, VT, and after talking it over with Cynthia Leitich Smith, I decided to apply. By the time I was accepted, I had completed a decent draft of the novel, and was ready to wow all of the students and instructors with my Literary Genius.
Boy, was I mistaken.
I still remember my first workshop experience like it was yesterday. It was lead by the award-winning author Tim Wynne-Jones and Graduate Assistant Ellen Yeomans, and included authors Kelly Bennett and Carol Brendler, current Simon and Schuster editor Kate Angelella, and my good friend Rachel Wilson. There were some things I did right in the manuscript, but there were a whole bunch of things I did wrong—I interrupted the dialogue with huge chunks of description, Joshua's parents were two-dimensional, and I apparently had an overabundant zeal for the word "breasts"—which to be fair, I had already heard from my wife. And my critique group. And my then-editor. But again, I was a Literary Genius—they clearly weren't seeing the magnificence of my word choice. Sad to say that it took thirteen strangers to tell me something that everyone else had been saying for months before I finally got it.
The month before I started VCFA, I had told my agent I just had "a few more things" to tidy up on the manuscript, then I'd be ready to send it to her. Those few things ended up equaling ten months worth of rewrites under the careful eyes of Sharon Darrow and Rita Williams-Garcia. I finally sent my agent the manuscript in late February, 2008. It was less that I was "finished" with the manuscript and more that I was about ready to gouge my eyes out if I had to look at it one more time. Fast forward a couple of months, and Stephanie Elliott at Delacorte acquired the manuscript.
In a nutshell, that's how it went, although it'd be another year of edits and copyedits before the novel was actually finished. And now that I'm working on my fourth novel, I'm finding that my process is entirely different than what I've done before. I'm working from an outline instead of just jumping in. I'm writing a novel that's already under contract, instead of finishing the novel before selling it. And you know that whole thing I said about swearing off the female first-person point-of-view? Well, let's just pretend I never said that.
(*Note from the host: Why I'm practically blushing from all those nice things Varian said. But, future Mafia players, that's just not true. I'm terrible at Mafia. Seriously. Please do not kill me in the first round… If you kill me, you're killing the entire Village!)
Catch Varian at his other stops:
Monday, March 8th – Author's Tent, Melodye
Tuesday, March 9th – Reading in Color, Ari
 
Thursday, March 11th – Melissa at Book Nut
Friday, March 12th – Edi at Crazy Quilts