I just finished the first draft of a new book, currently called The Secret History*. Ben apparently just finished one too, and reminded me about Wordle with his post. Anyway, I'm not all fancy and can't figure out how to screen grab to embiggen, so you'll have to click the link if you wanna see more detail.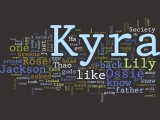 But, honestly, aren't these mostly fun for the person making them? Yeah, I thought so.
*Yes, yes, I know this will almost certainly change. I, too, love the Donna Tartt novel of the same name. But it is a good title for the book.