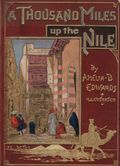 No Dollhouse Discussion because no new Dollhouse, and sorry my presence has been so spotty here this week. It's spring, and I'm completely absorbed by a new project that I didn't expect to catch fire quite so quickly. Scary, very scary, but fun, too. We'll see. 
C and I took in the Excavating Egypt exhibit tonight, where I stared at a statue of Anubis until I got chills. One of the little corners of the exhibit, tucked away opposite the elevators of an upstairs hallway where most people probably miss it, featured an oversized picture of Amelia Edwards and an absolutely gorgeous display of her books about Egypt.*
Edwards is a fascinating character–a close friend of Charles Dickens, a suffragette, and, of course, a prominent Egyptologist. Her writings about her travels in Egypt reflected a prescient fear for the destruction of its archeological treasures, one she acted on by encouraging more measured exploration. Here's an excerpt from the excellent biographical note at the University of Pennsylvania's celebration of women writers:
Anyone who has lost themselves in one of Elizabeth Peters' "Amelia Peabody" mysteries, daydreaming of high adventure amid the pyramids of Egypt, will be intrigued by the writings of her real-life contemporary Amelia Edwards. Edwards enjoyed three separate careers: as an journalist, a novelist, and an egyptologist. She was also an active supporter of the suffrage movement, serving at one time as Vice-President of the Society for Promoting Women's Suffrage. Unlike the fictional Amelia Peabody, Amelia Edwards never married, but lived and travelled for much of her life with a female companion.
When she died at the age of 61, she left her collection of Egyptian artifacts to and endowed a chairship at University College, London, because it was the "only university in Britain offering degrees for women at that time." William Matthew Flinders Petrie–who according to the exhibit sometimes performed his archeology in underwear to discourage tourists–was the first holder of the chair and, obviously, who the Petrie Museum is named after. 
The Penn site has the full text of A Thousand Miles up the Nile, as do several other sites, including Google Books. Or, like I plan to, you can check out some of her ghost and supernatural-themed stories here, including those published in Dickens' magazines.
*Stopped here to howl because Emma heard a doorbell on television and started barking. We do not have a doorbell, but someone in Emma's past did.