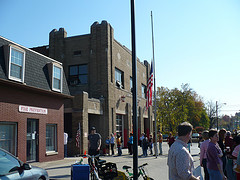 The Line When We Arrived
Originally uploaded by gwenda
It took about two hours, but was a great experience. Seriously, if I talk about it too much, I'll get weepy. I've been weepy all day, a combination of nerves and just being inspired by how special this election is.
Anyway, that's the old firehouse we vote in, and the line when we arrived. There's a few more shots at Flickr. Reading material spotted in line: Kitty Goes to Washington by Carrie Vaughn (me!), Eragon by Christopher Paolini (a lady behind us), D'Aulaire's Book of Trolls (the kid with his dad three places in front of us), and there was a creepy yuppy guy in front of us reading Ayn Rand (!) (or at least toting it around with him pretending to read it).
The rest of our evening will be spent dealing with some version of this. Here's hoping.
Updated: CNN has holograms. WTF?