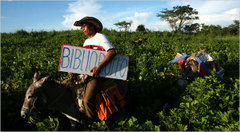 The NYT has an excellent story about Columbia's self-appointed people's librarian, Luis Soriano, and his two donkeys, Alfa and Beto:
"I started out with 70 books, and now I have a collection of more than 4,800," said Mr. Soriano, 36, a primary school teacher who lives in a small house here with his wife and three children, with books piled to the ceilings.

"This began as a necessity; then it became an obligation; and after that a custom," he explained, squinting at the hills undulating into the horizon. "Now," he said, "it is an institution."
Viva la biblioburro!