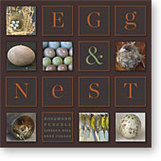 Rosamond Purcell, aka my favorite living photographer, has a new book coming out (with an introduction by Bernd Heinrich, no less). The pub date is October, but Amazon's listing it in stock already. And Egg & Nest sounds divine:
The beauty of the robin's egg is not lost on the child who discovers the nest, nor on the collector of nature's marvels. Such instances of wonder find fitting expression in the photographs of Rosamond Purcell, whose work captures the intricacy of nests and the aesthetic perfection of bird eggs. Mining the ornithological treasures of the Western Foundation of Vertebrate Zoology, Purcell produces pictures as lovely and various as the artifacts she photographs. The dusky blue egg of an emu becomes a planet. A woodpecker's nest bears an uncanny resemblance to a wooden shoe. A resourceful rock dove weaves together scrap metal and spent fireworks. A dreamscape of dancing monkeys emerges from the calligraphic markings of a murre egg.

Alongside Purcell's photographs, Linnea Hall and René Corado offer an engaging history of egg collecting, the provenance of the specimens in the photographs, and the biology, conservation, and ecology of the birds that produced them. They highlight the scientific value that eggs and nest hold for understanding and conserving birds in the wild, as well as the aesthetic charge they carry for us.
Purcell will speak and show slides on Oct. 7 at the Harvard Museum of Natural History.