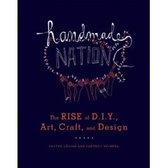 I wrote the cover story for this week's Publishers Weekly, about what's going on with craft books.
A big chunk of the piece centers around Handmade Nation, the new companion book by Faythe Levine (with Cortney Heimerl) to her forthcoming indie documentary of the same name. This one was fun, and made me want to make stuff.
If only I were good at making stuff.