What a lovely weekend. I intend a more substantial post later, but, wow, it was great to meet everybody and I wish I'd had a lot more time to talk to everyone who was there. Y'all rock.
And the incredibly well-spoken Liz Burns has a big post with links to reports and photos from various attendees.
Here's a group shot* courtesy of Andrea and Mark Blevis (of Just One More Book fame — Mark gave a great talk on podcasting). Over at Flickr, you can even see the attendees mapped by site (& a whole bunch of other photos).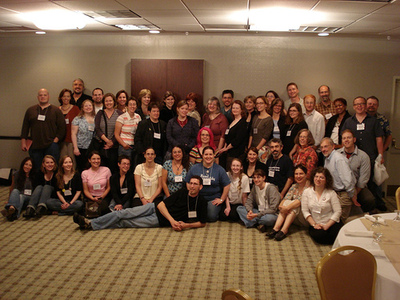 *not pictured Micol, who went off premiering, and Ysabeau, who'd already taken off for the evening.