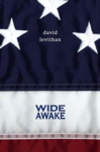 If you're looking for some appropriate reading material for Election Day, I suggest David Levithan's Wide Awake. It's an excellent, zippy, funny, insightful and above all else political YA novel set in the a (sort of distant but) not so distant future Here's a snippet from the opening (longer excerpt here):
"I can't believe there's going to be a gay Jewish president."

As my mother said this, she looked at my father, who was still staring at the screen. They were shocked, barely comprehending.

Me?

I sat there and beamed.
p.s. Hunter S. Thompson fans may want to check this out (note: not pretty), but a rousing post. Sentiment heartily agreed with. Although, I think you're allowed to complain no matter what. It's in the Bill of Rights.