Oh, yay, the weekend has arrived and with it will come Miss Barb Gilly and Mister Richard Butner, live from Raleigh, for birthday celebrationing. The house is allmostly spiffed and life is grand. I bought Scattergories. And we still haven't played Save Dr. Lucky, even though we've had it for AGES. Drinking and board games, people; try it at home.
Emma the Dog Girl and I took a long meander around downtown last night, and she was the picture of bravery, sidling up to the giant, public-showeresque water feature in the courthouse square to steal a drink. Must start taking camera along. Even funnier, when we got home, she immediately lay down on the bathroom floor with her face over the a/c vent. Must start taking pictures at home. Later, Hemingway taunting her by lolling lazily on his back while she bark, bark, barked, which was the best, but also sadly unphotoged. Consider this paragraph your Friday Pictorial that isn't.
Hangovers later, and I have a couple of real posts I haven't had time to get to yet. Oh, and t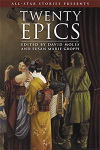 he Twenty Epics festivities continue; just go buy it! Christopher hasn't written an entry about his story yet, which is sort of appropriate since it's tiny — the shortest epic in the book, I believe. So consider this a post on his behalf and an admonition to buy what is most assuredly one of the best anthologies you'll read this year. I hear the index is epic, all on its own. Ciao.