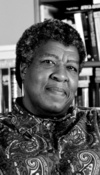 As you've probably heard by now, Octavia Butler died yesterday. The reports available so far seem to indicate a stroke and a fall. An unexpected tragedy.
I've been avoiding the computron for the last two days (on dial-up no less) and found this out from Christopher this afternoon. I still can't quite believe it.
UPDATED: Scott's remembrance of Butler. And Jenny's. Oh, and Moorer sums it all up, better than I could.
REUPDATED: A beautiful post by Ed, who is doing a great job catching other people's posts.