Hey! So I haven't talked much about this here yet, because deadline after deadline after … you guessed it deadline!
In case you're not familiar with Serial Box, a little explanation. So this company is doing something really interesting with collaborative storytelling, very much playing to writers' strengths and desire to occasionally not work on our own. I love collaborating with other people and I especially love talking out stories with other writers. The way it works is, each serial — there are five so far — has its own premise and world and staff of writers. There's a show runner, and it's a similar process to TV (at least as I understand TV) in that everyone on the staff plots out stories together and then individual writers break off and write episodes. Over the course of 10 or 15 weekly episodes, voila! You have a season, a complete story made out of all those little ones, which you can either read or listen to an audiobook of, approximately 40 min to an hour depending on the format. Ideally, people keep up with the episodes as they come out and then get the fun of discussing their reading with others who are doing the same.
Earlier this year, I was asked if I'd be interested in doing a guest episode for a new serial that was being launched called ReMade. The premise behind ReMade is super-cool and I won't say too much, because I think it's more fun to experience it as it unfolds. Here's what the website says:
"The lives of twenty-three teenagers are forever changed, and it's not just because they all happen to die within the same minute. "ReMade" in a world they barely recognize–one with robots, space elevators, and unchecked jungle–they must work together to survive. They came from different places, backgrounds, and families, and now they might be the last people on the planet. LOST meets THE MAZE RUNNER in this exciting sci-fi thriller."
I would suggest thinking of this as an excellent, smart CW show, and once I learned the details of the story (and that I'd be working with Matthew Cody, Kiersten White, E.C. Myers, Andrea Phillips, and Carrie Harris), my answer was yes please. I'm intrigued by the format and short fiction is definitely a place where I want to stretch my muscles a bit more (a natural short story writer I am not). I had so much fun doing my one episode (#10) that I happily said yes to joining the team officially for season two. The serial is currently six episodes in, and new ones drop each Wednesday. This makes it a perfect place to jump on and snarf.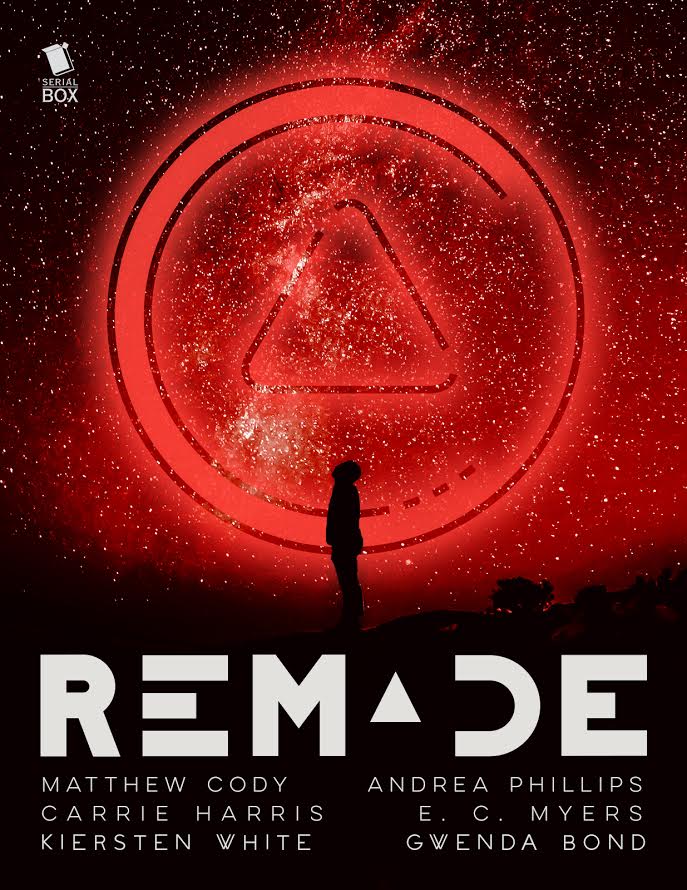 Which brings me to the reason for this post! Next week we all head to New York — along with the wonderful Amy Rose Capetta — who's joining season two too (yay) for the season two story summit. I decided to listen to all the eps released so far (and then reread the others) this week as a prep, and I'm inviting you to join me!
The first TWO episodes are free at the moment, so you can try it out with no $$ outlay — and then if you want the whole season, you can subscribe and get all the other episodes. If you have an iPhone, the easiest way to experience by far is to download the free Serial Box Publishing app, which will give you both ebook and audio file and syncs between them so you can switch back and forth if you want (and which you can subscribe through). I actually paid to subscribe because I love the app so much. But you can also buy the individual episodes from your favorite ebook retailer, read or listen on the website, etc. The Serial Box website spells all this out.
So, join me, and give it a try! I'll be listening to an episode each day this week on my walk and tweeting about it using #ReMade — starting with the pilot today — and we're going to be doing regular Tuesday night chats on twitter (follow @serialboxpub for the details) with the writing staff going forward too. We want to hear from you; it makes it so much more fun to break your heart if you tell us how best to do that. 😉