Ah, World Fantasy was such fun — so many of my favorite people in one place. While the usual woes of not getting to meet/see everyone All The Time exists, I got to spend a happy-making number of hours hiding out and gabbing with dear friends. Yay.
Also, writing Catwoman has changed my dear Genevieve… Here she is stealing my earring at the mass signing:
A #DCLadies pic with @Gwenda at WFC: "Writing #Catwoman has changed Genevieve." (Sorry, Lois!) http://t.co/1HpxvUKMct pic.twitter.com/9wRYm45I4s

— Genevieve Valentine (@GLValentine) November 10, 2014
We had two fabulous meals at Jaleo, both of which required sampling of the featured cocktail — the Mascieta, a concoction of brandy, lemon, saffron syrup, muddled plum wedges and egg white that instantly transports the drinker to the 1930s, specifically The Thin Man movies.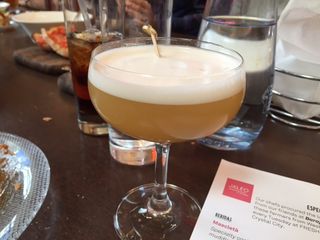 The second time it was so good that we promptly came back and bid on these fabulous papercut pieces by the amazing Kathleen Jennings in the art show. And we won them. Yip!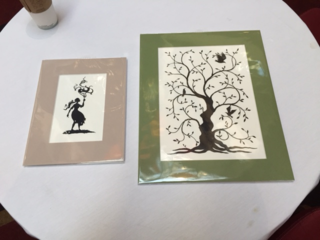 I regret nothing.
Upcoming event! I'll be at the Kentucky Book Fair this Saturday. Come get a copy of Girl on a Wire, which I will scribble in. They make excellent x-mas presents. (As always, if you're far away or can't make the event, you can get signed copies from Morris Book Shop and Joseph-Beth Booksellers, and I'm happy to stop in and personalize 'em.) I'll be on Curtains @ 8 on WUKY tonight, along with some other authors who'll be at the book fair.
And I have some news, which I cannot talk about yet but yay:
Just signed, scanned and sent back to @literaticat the contract for a new book. *wriggles* *rolls up sleeves* *starts outlining* #yayyyy

— Gwenda Bond (@Gwenda) November 11, 2014
Last but not least, the wonderful Catherine McKenzie (have you read Hidden? soooo good) named Girl on a Wire one of "5 Great Reads for Your Book Club" over at the Huffington Post recently: "To paraphrase The Princess Bride, there's mystery, wire walking, trapezes, fights and a great kiss. Highly recommended for YA focused book clubs, particularly." *beams*