A few more Lois-y things:
Hmm, what else? I have an event this weekend at the Woodford County Library. These are always fun, not least because our PENS ARE ON FIRE (not really, that would be dangerous). The details:
Pens on Fire – Young Adult Authors: Come hear popular Young Adult authors talk about their work, writing tips, and paths to publication. Authors include Gwenda Bond, Sarah Combs, C.C. Marks, Katie McGarry, and Heather Sunseri. Free – Sign up today! 9/6/14, 2-4pm, Main Library.
And last but not least:
You can still enter to win the fancy Paperwhite with the custom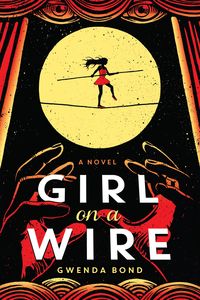 cover featuring the gorgeous Girl on a Wire cover illustrated and designed by Neil Swaab: just sign up for the newsletter or comment on that post with something you love or hate about the circus. Contest ends Friday at noon.
If you snagged the book on special, read it and like it, please consider dropping a review on Amazon and/or Goodreads or spreading the word wherever you like best. And if you haven't snagged it, well, what are you waiting for? Lee Child totally edged me down in the rankings. *wink* I kid! Feel free to wait and buy a hard copy. Or ask your library to order it. Basically: please to buy or otherwise legally procure wherever you like, read, and let me or the world know what you think. Without you lovely readers, I don't get to do this. And I like doing this.
Now it's our tenth wedding anniversary, so there must be a little celebrating, and there's another book to finish. So *poof*.