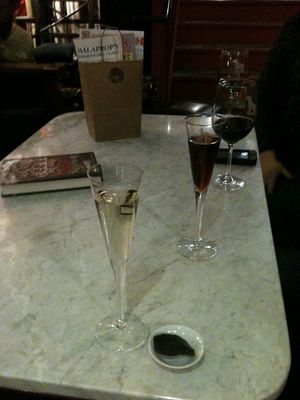 Has it been less than a week since my last post? And yet less than a week filled with excitement! Most of which is still of the TOP SECRET variety. (Okay, okay, I'll stop being obnoxious now and just get to work.)
Many thanks to everyone who came out to the Malaprop's panel last week, which was such fun. Not that it's possible for a visit to Malaprop's to be anything else. And how can you go wrong when talking about girls and monsters? It would be exceedingly difficult–especially with the delightful Megan Shepherd, Meg Spooner, and April Tucholke. Afterward we went to the Battery Park Book Exchange and Champagne Bar (yes, it is in fact one of the most perfect locations on the planet).
Last couple of appearance-y things for the year: I'll be on WUKY's Curtains @ 8 tonight (Tuesday), talking The Woken Gods in advance of this week's Kentucky Book Fair. Annnd I'll be at the book fair for the first time, both Friday for Children's Day and Saturday for the main event. If you're attending, come by and chat. I will sign anything you put in front of me, but especially books.
And, last but definitely not least, I had the immense pleasure of interviewing Nicola Griffith, who long-time readers of this blog will know is one of my favorite favorite authors, about her newest novel HILD (out today!) for the LA Times. Snippet: "Women of the past, we're told, were objects not subjects, they had no agency, they were submissive. What a load of rubbish. Women are people — as human then as you and I are today. People find ways around their constraints, whether it's gender, status, physical ability, and so on. What counts is how you use what you've got. Hild has a singular mind." Go read the whole conversation and then get yourself a copy. You want to. Trust me.