It's One Shot World Tour: Canada Day, with a whole bunch of bloggers giving shout-outs to literary Canada. Colleen has the full list of links.
I had big plans, but the overwhelmingness of the overwhelming has impacted my capacity. Instead, I'm just going to highlight two incredibly wonderful writers from Canada who should be getting more attention (and who teach at my MFA program). And because time is short, I'm more or less just going to say that I love their books, and you should too, rather than offering compelling arguments. (But, seriously, you should too.)

Tim Wynne-Jones is a rock star. Maybe not quite yet in the U.S., but I'm thinking it's a done deal after his next couple of books come out. Rex Zero and the End of the World was rightly acclaimed and praised by critics, and was named a 2007 Boston Globe-Horn Book honor book. It's a hilarious, smart, wonderful book. The sequel, Rex Zero, King of Nothing, is due out in April, and I can't wait. Candlewick signed him up for a two-book deal back in the summer–the first book is called The Children of the Snye, and what I've heard him read from it was smashing. And, of course, he's published a lot of other books, for a whole host of age groups, any of which I'd wager are worth checking out. And Cynthia Leitich Smith did a great interview with him about A Thief in the House of Memory (the first thing I ever read of his; highly recommended).
I may be a bit biased, but only a bit–Tim was my first semester advisor and is a genius writing teacher. Really. If you ever get the chance to work with him, take it.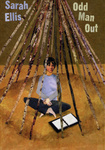 Sarah Ellis looks good in a hat, something you can see firsthand if you click that link and visit her site. Like Tim, she's also written for a whole range of age groups. Her picture book The Queen's Feet is absolutely charming, and I adored her slipstreamy, deliciously creepy short story collection Back of Beyond. Her most recent novel, the quirky* coming of age story Odd Man Out, should be a break-out book. It won the prestigious TD Canadian Children's Literature Prize (for which Rex Zero was shortlisted, I might add) and the Sheila A. Egoff Children's Literature Prize in 2007. (Side note: Can we all agree that prize sounds more exciting than award?) On her site, she describes the book's genesis:
Once I was visiting a school and a grade seven boy asked me to consider writing a book about espionage. I'm not that interested in espionage (although I like the gadgets and the mysterious secrecy of it all) but I did find myself thinking a lot about a boy who was, himself, interested in espionage and spies. That boy turned into Kip. The other thing that is behind this book is my love for stories that have a group of kids in them, like Cheaper by the Dozen or the Casson family stories by Hilary McKay and I wanted to try such a book myself. A gang of five girl cousins is the result. I also like island stories so I put them all on an island.
I've also heard that she's no slouch in the genius writing teacher department herself.
*Not in the bad way.